VOX AV15
Tipo di costruzione: hybrid
Potenza: 15 watt
Fornito di altoparlanti: 1 x 8"
Valvole del preamplificatore: 1 x 12AX7
Effetti: Processore di effetti
Misure: 450 × 234 × 377mm
Peso: 7,7 kg
più
meno
In magazzino
Subito disponibile
---
10083915
codice:
---
01/2016
Fa parte della nostra gamma die prodotti dal:
---
›
Garanzia "prezzo migliore"
Il video del prodotto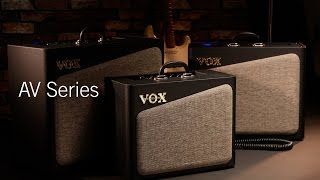 VOX AV15 · Combo
The Vox AV series represents a new tube amplifier concept that is not only remarkably flexible, but also affordable. With one or two 12AX7 tubes for the preamplifier and the power amplifier, and 8 separate analog circuits the VOX amps offer eight distinctive tube sounds, from pearly clean through bell-like crunch to brutal high gain.

Its carefully thought out and completely analogog build is based on a variety of components. The classic sounds of the AV amplifier are put in scene from the Tube power amp stage and through the resonance friendly housing perfectly transmitted. There are also three effects (chorus, delay and reverb), their quality is beyond reproach. In our opinion, these amplifiers provide a revolution in the already glorious VOX tradition.

The assertive sound of a tube amplifier.

A fat sound you can only get today with analog circuitry and true tube out. Surely there are already tube amps with flexible voicing, but most guitarists can only dream of that.


Fats tube sounds for all applications.

Innovative, flexible amplifier concept with all necessary functions.
8 analog preamplifier modi generate thanks to an elaborate design and meticulously selected components, the sounds of 8 distinctive tube amps - from "clean" to "high-gain" [/ *].
The preamplifier and power amplifier both utilise a 12AX7 Duble triode Tube for a divine tube sound.
Four modes determine the response of the circuits upstream and downstream of the tube.
High-quality modulation, delay and reverb effects.
The housing contains a baffle for efficient sound projection.
The front mounted speaker creates a powerful, clear and spacious sound.
A specially developed bass reflex structure optimizes the natural tonal balance.
Combo · VOX AV15
Questo articolo non e' stato ancora valutato dai nostri clienti.
›
Sii il primo a votare questo prodotto!
Axel Pralat
I clienti che hanno visto questo prodotto hanno anche esaminato
Ricerca prodotti simili
· visualizza tutti gli articoli della marca
VOX
.