Tama Starclassic Performer Tempest Green LTD
Versione: set di casse
Configurazione: Rock Drum set
Grancassa: 22" x 14"
Tom: 12" x 8"
Floor-tom: 16" x 16"
Materiale cassa: betulla/bubinga
Hardware casse: cromo
Superficie cassa: verniciata
Colore: Tempest Green Classic Stripe
Delivery without Hardware
Extra: Supporto Tom
Note: The pictured hardware, cymbals and snare drum are not included
più
meno
In magazzino
Subito disponibile
---
10090028
codice:
---
10/2016
Fa parte della nostra gamma die prodotti dal:
---
›
Garanzia "prezzo migliore"
Il video del prodotto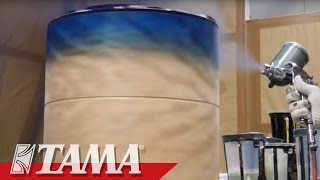 Tama Starclassic Performer Tempest Green LTD · Set di batterie
By using bubinga wood on the inside of the Birch shell TAMA has opened a new chapter in the Starclassic Performer series.

The mixture of birch and bubinga has created a new sound, which combines the hard attack of birch wood and the beautiful deep harmonies of bubinga.

Star-Cast Mounting System

The Star-Cast has always cared for optimum resonance and stability for TAMA's robust high-end drum kits. The new streamlined design, the tom toms more closely set together and make for a completely dynamic feel. In addition, the new star-cast mounting system is manufactured from aluminum, which has the consequence that the suspension is not as massive and stiff and thus the boiler still can swing better.
Set di batterie · Tama Starclassic Performer Tempest Green LTD
Questo articolo non e' stato ancora valutato dai nostri clienti.
›
Sii il primo a votare questo prodotto!
Vlad Ivanov
I clienti che hanno visto questo prodotto hanno anche esaminato
Ricerca prodotti simili
· visualizza tutti gli articoli della marca
Tama
.