Gretsch USA Broadkaster BK-J403V-ASP
Versione: set di casse
Configurazione: Studio Drum set
Grancassa: 20" x 14"
Tom: 12" x 8"
Floor-tom: 14" x 14"
Rullante: -
Materiale cassa: Acero / Pioppo
Hardware casse: cromo
Superficie cassa: laminata
Colore: Anniversary Sparkle
Extra: Supporto Tom
Note: The pictured hardware, cymbals and snare drum are not included
più
meno
Disponibile a breve
Probabilmente disponibilein circa 7-14 giorni lavorativi
---
10078608
codice:
---
04/2015
Fa parte della nostra gamma die prodotti dal:
---
›
Garanzia "prezzo migliore"
Il video del prodotto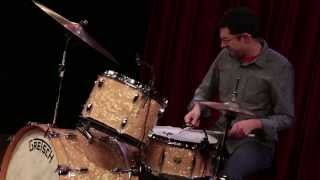 Gretsch USA Broadkaster BK-J403V-ASP · Set di batterie
From 1920 to 1950, the Set's from the legendary Broadkaster series Gretsch were absolute top models. With their thin three-layer North American maple and poplar shells, these drums set new standards and laid the foundation for the
"Great Gretsch Sound" with which the company still advertises today.

The current generation Broadkaster is manufactured in Ridgeland, South Carolina, according to the same specifications as its predecessor in every way. One can choose between two versions, Vintage Build or Standard Build and thus achieve a more traditional or modern look by equipping the appropriate shell hardware. The Broadcaster drum-kits are, though at first only available in the four colours: Antique Pearl, Satin Copper, Satin Classic Maple and anniversary Sparkle, now available in all US Custom Colours . Like all quality Gretsch drum-sets the Broadkaster also hast the Silver Sealer Finish inside the shell.

Our conclusion:
This set is a real asset to the Gretsch high-end sector and brings both the American Spirit and That Great Gretsch Sound .
Set di batterie · Gretsch USA Broadkaster BK-J403V-ASP
Questo articolo non e' stato ancora valutato dai nostri clienti.
›
Sii il primo a votare questo prodotto!
Vlad Ivanov
I clienti che hanno visto questo prodotto hanno anche esaminato
Ricerca prodotti simili
· visualizza tutti gli articoli della marca
Gretsch
.