In magazzino
Subito disponibile
---
Merce ingombrante

Questo articolo sara spedito tramite spedizione
[altre informazioni]
---
10062426
codice:
---
07/2012
Fa parte della nostra gamma die prodotti dal:
---
›
Garanzia "prezzo migliore"
Il video del prodotto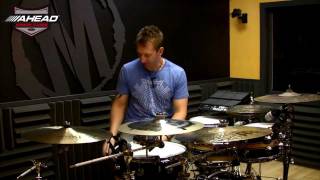 AHead Armor AA9020 · Accessori per batteria
The high-end drum bags have the name of the case deserves!

Ahead Armor cases are characterized by three unique and specific improvements over the already represented in the market from Drumbags.

The cases are in TruForm so is the patented revolutionary design in drop form, which corresponds to the shaping of the toms along with the mounted hardware (Tomhaltesystem). Whether with or without the RIMS system, the case fits the specified Tomgröße! There is not another case set for sets of rims needed!

Through the course of the ingenious patented zipped DynaZip system is the packing and unpacking of Toms much easier and faster. The Case-neck, which can be opened by a zipper, is much bigger than other products.

The DX-Ahead Core is using 2-ply, highly protective foam padding high security for the toms, the comfort is granted by the soft Sherpa fleece Toms. This means that the shock-absorbing cases even more protected and the best Tom. The soft fleece interior in conjunction with the 600-denier polyester outer fabric is a water-and weather-teeming, virtually indestructible durable and strong protection for the drums.

Drummers like Thomas Lang, Jost Nickel, Adrian Young, The Drumbassadors, Eric Singer, Mike Johnston and many more. Ahead are already excited the Armor cases and every day there are more drummers.
Accessori per batteria · AHead Armor AA9020
Questo articolo e stato valutato con una media di 5 fino 5 stelle. Non e stata rilasciata nessuna opinione per iscritto. Una valutazione è stata rilasciata senza testo o in un'altra lingua.
Vlad Ivanov
I clienti che hanno visto questo prodotto hanno anche esaminato
Ricerca prodotti simili
· visualizza tutti gli articoli della marca
AHead
.