Yamaha Clavinova CLP-575PE
Key mechanics: NWX (Natural Wood X)con la copertura tasti in avorio sintetico e punti di pressione
Numero tasti: 88 tasti
Generazione del suono: RGE (Real Grand Expression)
Sounds / Tones: 34 sounds
Piano Effects: Key-off Samples, String- and Damper Resonance, Smooth Release
Polifonia: 256
Effetti: Reverb, Chorus, Brilliance, Master Effekt, IAC (Intelligent Acoustic Control) und Optimizer
Modi: Dual, Split und Layer Modus
Metronomo: Si
Particolarità: VRM Technology (Virtual Resonance Modeling), Sample from Yamaha CFX and Bösendorfer Imperial, 20 Rhythms
Sequenze: 250 Songs, 16 traccie
Mp3/Wave-Player/Recorder: Wave Player und Recorder
Collegamenti: 2x Phones, Aux in (Stereo Mini), Aux out
Mezzo di memoria: chiave USB
USB/Midi: USB to Host, USB to Device, Midi (in/out/thru)
Potenza (watt rms): 2x 40 W
Display: LCD Display
Colore: nero
Superficie: high-gloss
Peso: 73,5 kg
Key cover: sì
Dimensioni: 1466 x 930 x 465 mm
Consegna incl.: AC adaptor, user manual, music book
codice: 10073531
In magazzino
Subito disponibile
---
Merce ingombrante

Questo articolo sara spedito tramite spedizione
[altre informazioni]
---
03/2014
Fa parte della nostra gamma die prodotti dal:
---
›
Garanzia "prezzo migliore"
Il video del prodotto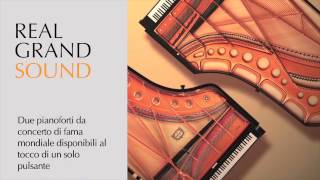 Yamaha Clavinova CLP-575PE · Pianoforte digitale
The Digital Pianos from the Yamaha Clavinova CLP series bring perfect piano sound to your home, studio or at your venue. Its Advanced Wave Memory tone generation used to produce each note of multiple samples of a real grand piano and the Graded Hammer Effect gives each key a natural resistance that increases from the upper to the lower keys. The Graded Hammer and Natural Wood keyboard with damper sensor provide a grand piano behavior that is virtually indistinguishable from that of the original instrument. A great sounding piano.
Pianoforte digitale · Yamaha Clavinova CLP-575PE
Questo articolo e stato valutato con una media di 4 fino 5 stelle. Non e stata rilasciata nessuna opinione per iscritto. Una valutazione è stata rilasciata senza testo o in un'altra lingua.
Sebastian Engling
I clienti che hanno visto questo prodotto hanno anche esaminato
Ricerca prodotti simili
· visualizza tutti gli articoli della marca
Yamaha
.