Yamaha Clavinova CLP-525PE Bundle
Key mechanics: Graded Hammer 3 (GH3) Tastatur mit synthetischen Elfenbein Oberflächen
Numero tasti: 88 tasti
Sounds / Tones: 10 sounds
Polifonia: 256
Effetti: Reverb und IAC (Intelligent Acoustic Control )
Modi: Dual eLayer
Metronomo: Si
Sequenze: 1 Song, 2 traccie
Collegamenti: 2x Phones
Potenza (watt rms): 2x 20 W
Colore: nero
Superficie: high-gloss
Peso: 45,0 kg
Key cover: sì
Dimensioni: 1353 x 848 x 415 mm
Consegna incl.: Bench, Headphones,Mains adapter,Instructions, Songbook
codice: 10075792
In magazzino
Subito disponibile
---
Merce ingombrante

Questo articolo sara spedito tramite spedizione
[altre informazioni]
---
10/2014
Fa parte della nostra gamma die prodotti dal:
---
›
Garanzia "prezzo migliore"
Il video del prodotto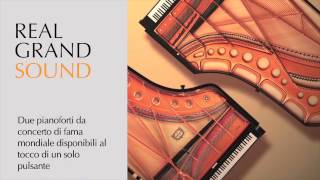 Yamaha Clavinova CLP-525PE Bundle · Pianoforte digitale
The Digital Pianos from the Yamaha Clavinova CLP series bring perfect piano sound to your home, studio or at your venue. Its Advanced Wave Memory tone generation used to produce each note of multiple samples of a real grand piano and the Graded Hammer Effect gives each key a natural resistance that increases from the upper to the lower keys. The Graded Hammer and Natural Wood keyboard with damper sensor provide a grand piano behavior that is virtually indistinguishable from that of the original instrument. A great sounding piano.
Pianoforte digitale · Yamaha Clavinova CLP-525PE Bundle
Questo articolo non e' stato ancora valutato dai nostri clienti.
›
Sii il primo a votare questo prodotto!
Sebastian Engling
I clienti che hanno visto questo prodotto hanno anche esaminato
Ricerca prodotti simili
· visualizza tutti gli articoli della marca
Yamaha
.