Boss RC-505 Loop Station
Tipo di effetto: Looper
Tipo di costruzione: Digital
Mono/Stereo: Stereo In, Stereo Out
Regolatore: Input, Mic Input, Instrument Input, Output, Memory/Value, Track FX
Interruttore: Edit/Clear, All Start/Stop, Undo/Redo, Tap Tempo, Start/Stop
Bypass Modus: Buffered Bypass
Alimentazione: 9VDC, Center negativo
Consumo di corrente: 420 mA
Funzionamento a batteria: non possibile
Formato caso: Big Size
Dimensioni LxAxP (cm): 42 x 6,8 x 21
Peso: 1,4 kg
Nazione di produzione: Made in Taiwan
più
meno
Ordinato
Presumibilmente disponibile dal 27.03.2017
---
10068079
codice:
---
04/2013
Fa parte della nostra gamma die prodotti dal:
---
›
Garanzia "prezzo migliore"
Il video del prodotto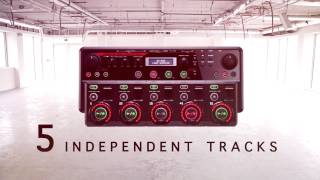 Boss RC-505 Loop Station · Effetto a pedale
Guitar veteran Les Paul even started using 2 tape machines, multitracked in order to accompany himself and that was in the 50's. In the 70s, it was the Avant Garde pioneers like Robert Fripp and Pink Floyd, who experimented with tape loop technology. In the digital age in the late 80s, there were digital delays that could record and play back a short sequence with a Hold function. At the end of the 90s the first true digital Looper, called the Boomerang came on the scene. For ordinary people it was far too expensive and complicated to use. Then in 2002 Boss lands the big one: the compact loop station RC 2 was a sensation - simple, intuitive operation by foot, Auto Record, storage spaces and lush for its recording time of 5 1/2 minutes. The rest is history! Current Loopers offer long recording times and postprocessing options. It can be implemented without great expense, and complex arrangements can be made in the overdub process. Whether for practice, as a musical notebook or for extravagant live performance - for each application Boss has the right Loop Station in Program.
Effetto a pedale · Boss RC-505 Loop Station
Questo articolo e stato valutato con una media di 4.4 fino 5 stelle. Non e stata rilasciata nessuna opinione per iscritto. 11 valutazioni sono state rilasciate senza testo o in un'altra lingua.
Axel Pralat
I clienti che hanno visto questo prodotto hanno anche esaminato
Ricerca prodotti simili
· visualizza tutti gli articoli della marca
Boss
.